Welcome to Geneseo Evangelical Free Church
Below you will find information or links to help you get to know a little bit about us. If you have any questions, comments, or concerns, please do not hesitate to contact us.
What are your services like?
A typical Sunday service lasts about an hour. You can expect live music and Bible-based teaching with an application that is relevant to everyday life.
What to expect
Where should I park?
We have three marked guest parking spots located to the East or right of the front entrance of the church. Feel free to park there!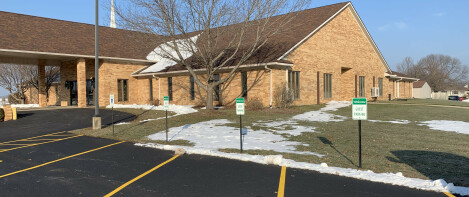 Where do my children go?
During the pandemic, we are unable to offer our regularly scheduled children's ministries. We normally offer age-specific programming for all ages. You are welcome to bring your children into the service with you, but we think they'll probably enjoy the environments we've created specifically for them more!
What times are your services?
COVID-19 birthed an outdoor casual service for GEFC, and we have found it to be a positive addition to our service line-up. The first service option that we have is an outdoor casual service on Saturday evenings at 5:00 p.m. Bring a lawn chair and check it out! The service will move indoors for inclement weather. We also offer a indoor socially-distanced Sunday morning service at 9:30 am. Follow the link below for more information and directions.
What We Believe
We desire to create disciple-making communities. We do this by reaching people, teaching them to love and serve Jesus, and sending them to reach, teach, and send others.
The Big Three
So, you call Geneseo Evangelical Free Church your home church. What does that even mean? Do you ever wish that there was a clear and straightforward answer to how you should get involved? Now there is!
The Big 3. These are the things everyone at GEFC should make a priority. Above all else, we believe if you do the "Big 3," it will help you connect and grow in your faith and the core values of GEFC.
COME EVERY WEEKEND

Make it a priority to attend church every weekend!

ACTION ITEM:

If you miss a weekend, watch the sermon online at gefc.org. Also, invite a friend - Be an inviter!

JOIN A SMALL GROUP

Be connected to a small group, and you can do life together. Learn and apply God's Word together, encourage one another, and hold each other accountable.

ACTION ITEM:

Sign up for a small group.

FIND A PLACE TO SERVE

Commit to serving others using your gifts within the church, in the community, and beyond.

ACTION ITEM:

Find opportunities to serve by contacting our church office at 309/944-4667 or email us at .